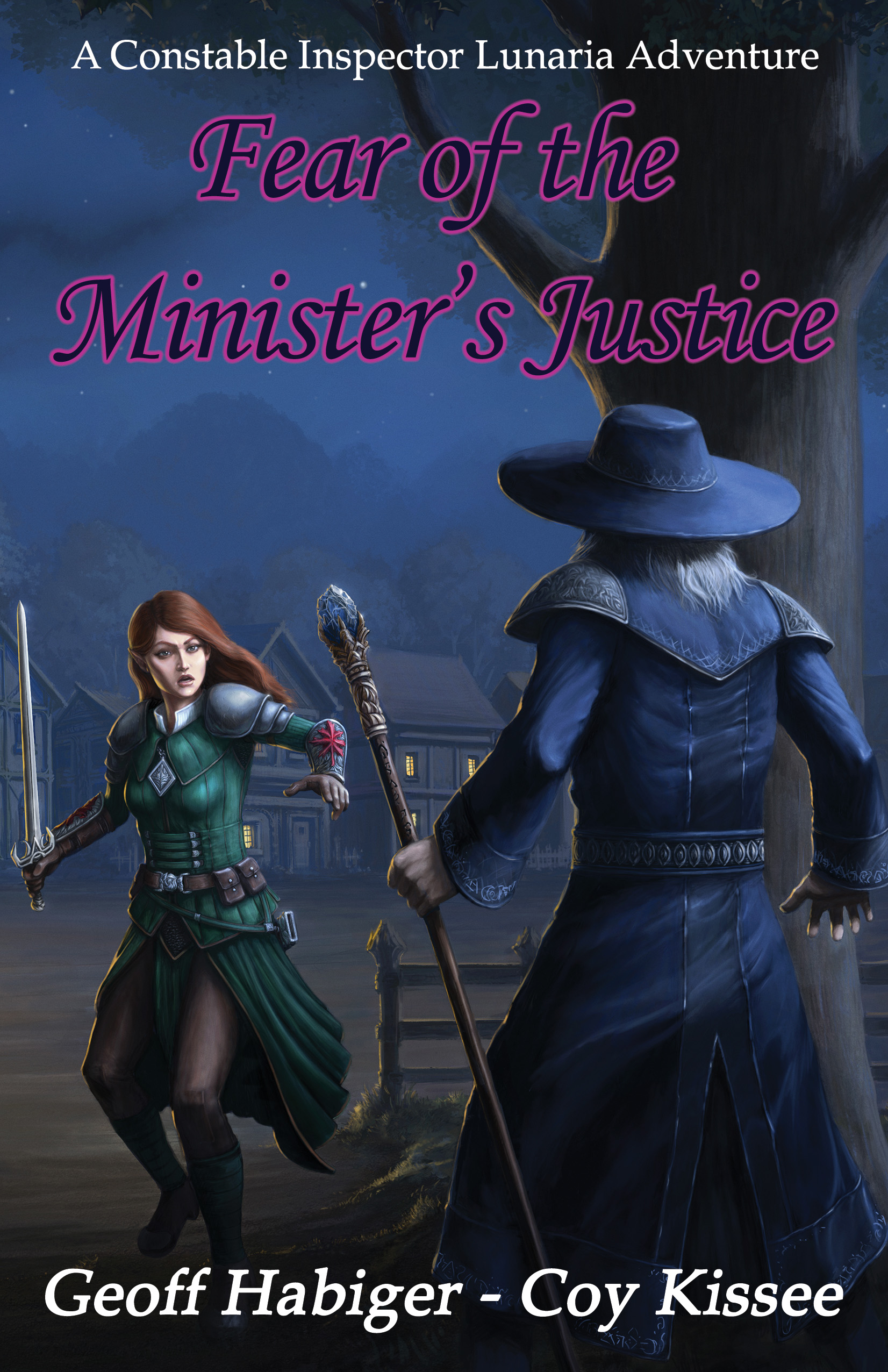 Fear of the Minister's Justice
Written by: Geoff Habiger and Coy Kissee (visit Geoff's and Coy's author website)

ISBN: 978-1-951122-42-3 (paperback) and 978-1-951122-48-5 (eBook)
Publication Date: October 18, 2022
Format: Paperback
Price: $17.95
Pages: 376
E-Book version also available! Download to your favorite e-reader for only $2.99.
You can download it for the Amazon Kindle, Nook, or Kobo.

An assassin stalks Tenyl's streets, and Seeker Ansee Carya is his next target.

A month after the Widow's Tears case, Constable Inspector Reva Lunaria has thrown herself into her work with a passion. Some would say it's more like an obsession, and also a risk, as Reva again resorts to using Wake to keep herself going. Tensions are high as Reva, Seeker Ansee Carya, and the rest of her team investigate a serial killer who is stalking Tenyl's sorcerers. But when the murderer is stopped, Reva is pulled into a Sucra investigation as Inquisitor Rhus Amalaki tracks down a plot against the royal family in the Nul Pfeta slums. Meanwhile, LCI Betulla makes a change to the constabulary that rips Reva's team apart. As Constables Ghrellstone and Gania are sent to Nul Pfeta, Ansee must take up Reva's slack as more sorcerers are killed, their bodies left to taunt the constables. Is there a copycat killer on the loose, or is there something more nefarious going on? As Reva and Amalaki close in on the Nul Pfeta conspirators, an assassin sets his sights on Ansee, and anyone else who may get in his way.